Last Updated on by James King
It has been revealed that a sports betting bill for the state of South Carolina has been proposed by lawmakers as it looks to become the latest state in the union to legalise the activity.
The bill, with an official label of H 5277, was instituted by Rep. William Herbkersman and Todd Rutherford.
South Carolina lawmakers have introduced a bill (H5277) that would legalize sports betting. It includes:

• 8-12 mobile operators, including participation by pro teams
• Cryptocurrency funding
• 10% tax rate
• $500k application fee

Cc: @WALLACHLEGALhttps://t.co/vPoJhbI7PR pic.twitter.com/KPGejqBUom

— John (@JNucci23) April 22, 2022
Should this bill be passed, it would mean that between eight and 12 mobile sports betting operators will be able to have licences approved, while sports franchises in addition to places that host the PGA Tour, stock car races and other national racing events will be able to become licence holders.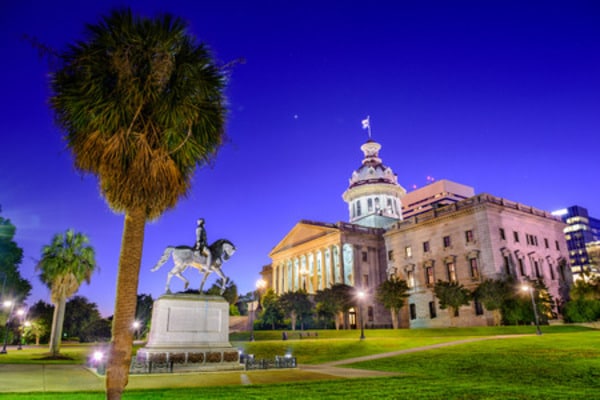 Favourable tax rate for operators
One of the selling points for states regulating iGaming is the revenue that they can generate via income from operators, in the form of tax, however, it appears that South Carolina will be in the lower echelons of this, with only a 10 per cent levy set to be imposed on operators.
It means that there is great potential for operators to really try and maximise their profit in a state that only has a population of 5.25 million, though a handful of popular sports franchises, which should provide sponsorship opportunities for operators to help raise awareness, through special promotions.
However, with a low population that only likely will have a small interest in online betting, some of the bigger operators may feel that it is not worth pursuing a licencing opportunity, despite the small tax rate, which as a result may open the door for newer sportsbooks.
Online sports betting growing in the US
While the ability to bet on sports online has been around since 2013, but only in a couple of states, such as Nevada and New Jersey, this has gradually increased over the years, with more states recently approving this, in addition to online gambling.
The last couple of years have seen a significant increase in the number of states that have passed online gambling (particularly online sports betting) legislation and it looks like South Carolina may soon be added to that ever-growing list.